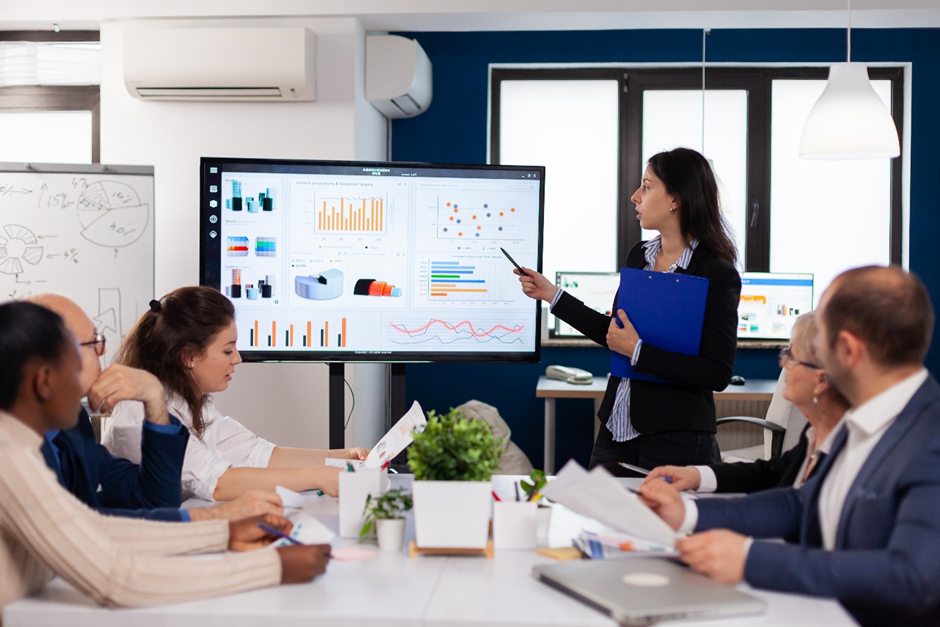 A study in the UK states that 40% of people experience loss of appetite, and 52% of managers avoid public speaking. In the corporate world, presentations are the most popular medium for proposing a new product, communicating a new strategy, giving a sales pitch, or showcasing the organisation's growth plan to the stakeholders.
Delivering an effective presentation can be daunting. Hence here are a few presentation tips for creating an impact-
Every presentation has three main components, the start, middle and end.
Know your audience – The language, delivery style, and content varies according to the target audience. Match your presentation style with the audience's needs, interests and knowledge level.
Messaging strategy – Use a clear and concise messaging strategy. The content should revolve around the central message. Craft a strong opening statement. The difficulty of language, tone, and flow of information depends on the audience you are communicating with. Hence the messaging strategy should be developed based on the target audience.
Flow of the presentation – Carefully curate the flow of the presentation. Start by addressing the problem statement or the reason for the presentation. Give the solution to the critical information in the first few slides.
Reserve time for an open discussion or question-and-answer session with the audience. Limit the number of slides to 8 or 10. Use images, diagrams, charts or videos. Make the presentation as interactive and engaging as possible.
Rehearse well – Practice your presentation and rehearse it over and over. To become an effective communicator, time yourself and be confident when you speak. Keep a steady pace, and don't rush over the presentation.
Practice clear diction and voice modulation if required and maintain the. Ensure that your body language is appropriate.
Engage with your audience – Maintain eye contact with the audience. Ensure that the audience is understanding and is in sync with you. Avoid turning your presentation into a monologue; engage with your audience by asking questions, taking polls, or seeking their opinion. Look out for non-verbal cues like facial expressions, hand gestures, and posture.
Check your equipment – Check the equipment like your laptop, projector or mike beforehand. Ensure that they are functioning properly. Check that the presentation has the correct screen resolution and looks good on the big screen.
Impactful conclusion – A strong open and closing statement is essential to create an impact. Hence a robust concluding messaging statement is essential to create an impact. Sum up the entire presentation in the last slide.
Reserve time for an open discussion or Q&A session with the audience. Listen actively to each question and be honest if you don't know the answer. Assure to follow up with information.
Effective verbal communication and understanding of nonverbal behaviours are desirable leadership qualities. It strengthens your personal and professional relationships. Mastering the art of verbal and non-verbal communication is crucial if you wish to grow in your career.
MIT School of Distance Education is an AICTE-approved distance learning institute. It caters to working professionals looking for career development. It offers PG Diploma in management courses for the holistic development of professionals. MITSDE offers a wide array of disciplines to choose from, such as –
Project Management
Marketing Management
Finance Management
Operations Management
Supply chain & Logistics Management
Banking & Financial Services
IT Management
Construction & Project Management
MITSDE has a dedicated team of student success managers for each learner. Student success managers assist learners in their academic journey.
It also has a placement cell that guarantees 100% placement assistance. The placement cell also offers services like resume-building and career-building to help secure a rewarding career.
Lastly, initiatives like MITSDE Labs and Harbour offer a perfect blend of practical hands-on training and psychological counselling.
Thus, MITSDE offers a 360-degree learning approach that guarantees a rewarding career.