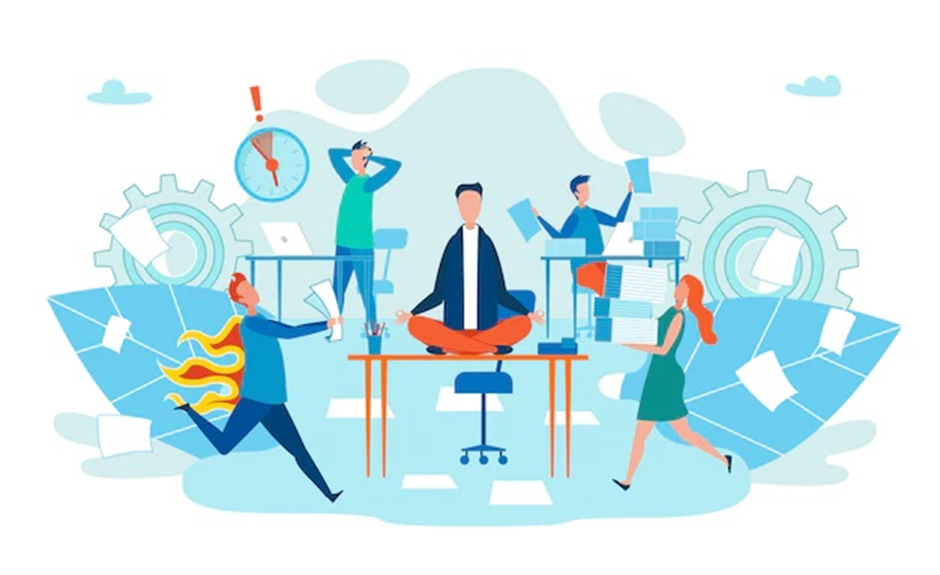 According to the World Health Organization (WHO), almost 40% of adults face anxiety and depression in the workplace. They suffer from anxiety, exhaustion and burnout.
This leads to, a loss of an estimated 12 billion working days and cost US$ 1 trillion per year in lost productivity, globally.
Many studies suggest that the next big pandemic after the Covid-19 pandemic is the mental health pandemic.
Mental well-being at the workplace is directly linked to the productivity of the employees and has a big economic impact on the industry.
According to a study by SHRM, the employees of the healthcare sector are more likely to experience mental health issues, followed by NGO workers, Government employees, Armed Forces, and education sectors.
The solution to overcome this problem is in plain sight – the HRD (Human Resource Department).
The HRD has the crucial task of maintaining the mental health and well-being of the employees.
Here are a few areas that need to be focused on to maintain a healthy work environment –
Listen to employees – An inclusive and open culture automatically reduces the toxicity levels and barriers between employees and management. As a manager, listen to your team.
Try to empathize with them. Listen to their issues or grievances or even suggestions to improve the workplace culture. Have an open dialogue with your team.
Provide opportunities for a cure – A study suggests that 1 in 5 HR professionals claim that their organization is unsure how to find or choose a plan for providing mental health resources. 33% say that they haven't realized the need for mental health in the workplace. The importance of mental well-being at work cannot be highlighted enough.
As an HR manager, you need to update yourself with the latest tools and techniques to create a healthy working atmosphere. You must invest in your employees' mental health as it has a direct impact on productivity. The measures for cure can be a personal discussion on problems, finding the cause of burnout or anxiety, eliminating the cause of the stressors, providing a health insurance plan covering mental illnesses, etc.
Remove biases – As an HR manager, you have to remove the stigma around mental health problems. You must create a conducive environment that promotes mental well-being and supports a stress-free environment.
Positivity at work – You are responsible for encouraging a positive work environment. You must take the initiative to promote workplace positivity. This can be achieved when the employees feel safe at work. You need to ensure that you have a diverse and inclusive workforce.
Embracing cultural diversity fosters trust in the employees. It helps them overcome barriers and have an open dialogue with their team or managers. This open culture enhances the positive mindset of the workers towards the workplace.
People-first culture – People are the biggest asset of the company. They are responsible for making or breaking a brand. They are creating the first impression on customers and hence have to be put first.
The HRD must incorporate a people-centric organizational structure. A flatter structure gives everyone more autonomy and easy access to the decision-makers.
Work-life balance – Long work hours, especially for those who work from home face the problem of early burnout and lack of a work-life balance. The imbalance tips people towards burnout, stress and exhaustion. Many fail to recognize the long-term effects of these issues.
If not addressed, these chronic issues may take a turn for the worse and lead to depression or heart ailments. Hence you must ensure healthy work timings and a good work-life balance. Encourage employees to take up hobbies and pursue them.
Understand employee needs – Managers often fail to recognize the real-time issues employees face. This negligence adds to the stress and aggravates it daily. Hence, as a manager, you must objectively listen to your employees' problems and support them in any way possible. This will reduce their daily stress and foster trust and respect.
Lead by example – Merely promoting mental health is not enough, you must take action to reduce the stress at work and address employee problems actively. You must set an example of a work-life balanced environment and promote inclusivity.
Mental safety in the workplace is a serious matter that has to be addressed. Hence as an HR manager, you need to be aware of the implications of mental health and the hazards of not maintaining a safe atmosphere.
MITSDE Advantage –
MIT School of Distance Education is an AICTE-approved distance learning institute. MITSDE aims at upskilling working professionals. The institute understands the current skill gaps in the market and hence has designed courses with the help of industry experts and academicians to suit the industry demands. 
It offers a Post Graduate Diploma in Human Resource Management (PGDM – HR). The online HR course covers the basics of Human Resource Management, analytical skills, International HR practices, and the latest trend in E-HRM.