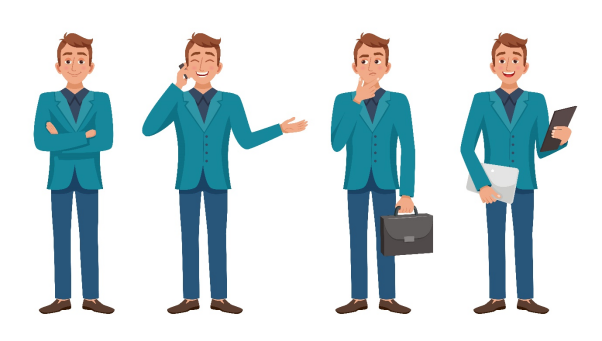 A manager faces many challenges when getting any job done. Strategic planning, budget allocation, and deadlines are just a few. However, an unaccounted problem is handling people.
People management is a skill that every manager must imbibe. Human resources are the crucial assets of any company. They build or break brands. Employee productivity decides the future of the company.
However, unlike machines, managing human resources can seem daunting. Here's a guide on various personality traits of employees and the ways to deal with them –
Passive-aggressive employees: Such people hesitate to cooperate with the manager or the team or openly show their anger or disagreement with any decision. They often resort to sarcastic comments, deliberately cause delays in the process, or subtly undermine the authority. When dealing with them – 

Be very clear with your expectations

Assign them tasks that have detailed and specific guidelines and a fixed timeline

Assertively communicate with them regarding their behaviour and how it affects the team.

Argumentative or confrontational: These employees often engage in an argument with other team members or can intimidate them.

Remain calm & do not engage in any conflict with them

Engage in a positive dialogue with them

Get them to focus on the task at hand

Micromanagers: These employees like to control each aspect of the project. They tend to dictate every detail and are insistent on following their work method. These individuals excessively control and monitor others. How to deal with them – 

Offer regular updates on your progress and involve them in decision-making when necessary

Discuss and negotiate boundaries, ensuring a healthy level of autonomy

Seek clarity on their expectations to avoid misunderstandings

Gossip mongers: Grapevine communication is an age-old problem in any organisation. Gossip creates discomfort, disagreements, and jealousy, leading to a disturbed work atmosphere. The best way to deal with such employees is to – 

Confront those who spread rumours in the team

Channel their energy towards more challenging work

Establish open lines of communication with colleagues

If necessary, report their behaviour to a supervisor or HR

Procrastinators or avoiders: These people tend to put off doing work till the last minute. They might also be introverted, so they avoid interaction with others. They prefer working in silos and may be hypersensitive to criticism. 

Engage in a personal conversation with them

Give them independent tasks

Try to ease them into the team

Give them a strict deadline and follow through
Adapting your approach based on the specific situation and individual is essential. Focus on maintaining professionalism, addressing the behaviour rather than attacking the person, and accommodating different personality traits. An HR manager should tackle different employees as per their nature to effectively draw maximum productivity.
Often, managers need to gain these essential skills and efficiently manage their employees. The HR manager is responsible for the training and development of such managers. Training programs such as those offered by MITSDE benefit learners long-term.
MITSDE Advantage –
MIT School of Distance Education (MITSDE) is an institute that understands these grassroots problems or modern workplaces and aims to overcome these skill gaps.
MITSDE is approved by AICTE, Govt. of India. It is a distance-learning institute for working professionals. MITSDE offers Post Graduate Diploma in Management, which is a 21-month course. The top PGDM in Human Resource Management course imparts the necessary skills to survive and thrive in the corporate world. 
PG Diploma (PGDM HRM) in Human Resource Management course covers the basics of Human Resource Management, analytical skills, International HR practices and the latest trend in E-HRM.
MITSDE focuses on the all-around development of the learners and provides soft skills training, psychological counselling, and an updated and relevant course curriculum.
If you wish to upgrade your career and rise higher on the corporate hierarchy ladder, then enrol for PGDM courses at MITSDE today!