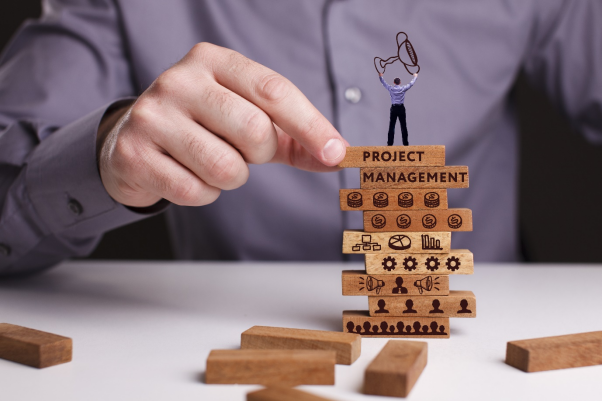 Project Management is an ancient practice since 2570 B.C. when the pyramids were built.
It has been a crucial part of ancient knowledge. But it has undergone evolution through the ages. Since the evolution process is continuous, keeping oneself updated with the latest developments in this field is crucial.
A project can even be our daily activities. Anything can be constructed as a project. Buying groceries to constructing dams. It is an art and science.
It requires careful planning, strong execution skills, number crunching, budget planning, people management, and a risk-taking attitude
A project manager is the captain of the ship and is responsible for the successful completion of the project.
It is a highly skilled job and hence a manager needs to possess qualities such as –
Strong leadership
Good communication
Team-player
Risk-taker
Analytical skills
Time-management skills
Creativity
Good documentation
Deep understanding of the business processes & functions
Multi-tasker
Strong technical knowledge
This shows that a project manager is expected to be equipped with both technical and leadership skills.
This is where a business management course helps an aspiring project manager. A PG Diploma in Management course from a renowned institute is equivalent to an MBA and is recognized globally.
MIT School of Distance Education offers PGDM in Project Management course, approved by AICTE. The 21-month course is designed keeping the needs of working professionals in mind.
MITSDE offers the PGDM project course bundled with internationally recognized and accepted PMI certifications. Project Management Institute (PMI) is a global community of millions of project professionals and individuals who use project management skills.
PMI is a not-for-profit organization established in 1969. PMI offers globally recognized standards, certifications, online courses, tools, digital publications, and communities.
MITSDE has partnered with PMI to offer a bundled course of PGDM Project with a CAPM Prep course.
Certified Associate In Project Management (CAPM) course is a globally recognized certification program. It opens up countless career opportunities in various industries, including healthcare, finance, IT, construction, and more.
The CAPM certification exam prep course focuses on various aspects of Project Management –
Fundamentals of project management
Role of project managers
Project management environment
Project integration management
Project scope, schedule, cost, quality and resource management
Project procurement
Predictive/Plan-Based Methodologies
Agile Frameworks/Methodologies
Business Analysis Frameworks
Risk Management
Stakeholder Management
Quality Management
The concepts covered in this course are perfect for those wishing to start their career in the project management domain.
Certifications such as the PMP certification exam or CAPM are pursued by people who wish to upgrade their knowledge and get a sense of accomplishment. Due to the tough nature of the PMP exam only 5-10% of people can crack them. Hence there are very few PMP-certified project managers.
Hence MITSDE helps to cover the basics of project management that will aid the learners to pass the PMI certification exams.
Completing this course opens up various prospective careers in project management –
Project Coordinator
Project Scheduler
Project Manager
Senior Project Manager
Project Planner
Project Coordinator
Project Planning/Scheduling Engineering
Documentation Specialist
The average annual salary in India is between Rs. 12-14 LPA. In countries like the USA, the average annual salary is in the range of $ 51000 – 110000. In the UK, the salary is approximately £39000/-
MITSDE is an institute that is engaged in the holistic development of the learner. Hence it also provides a dedicated team of student success managers that assist in learners' academic journey.
The placement cell offers services like resume-building and career-building sessions to help one secure a rewarding career.
Lastly, initiatives like MITSDE Labs and Harbour offer a perfect blend of practical hands-on training and psychological counselling.
Thus, MITSDE offers a 360-degree learning approach that guarantees a rewarding career.