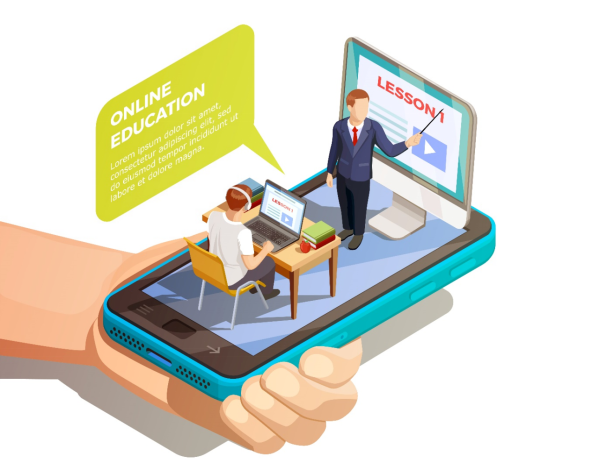 Until 2020, there was freedom of movement, and the economies were booming.
But with the advent of the pandemic, the world came to a standstill and people were forced into their homes. Thus, wreaking havoc.
Education was forced to turn virtual, and the importance and benefits of online or distance learning came into the limelight.
This is evident from statistics – The year 2020 saw 12 million admissions for online education as compared to 4.6 million in 2012. There was an 11% average increase in total enrolment for the largest online universities.
The figures go on to show that interest and participation in online or virtual learning have grown considerably during the pandemic. Research says that from 2001 to 2021 the number of learners reached by massive open online courses (MOOCs) increased from 300,000 to 220 million.3 Between 2012 and 2019, the number of hybrid and distance-only students at traditional universities increased by 36 percent, while the pandemic accelerated that growth by almost 92 percent.
Online learning is a sensible choice especially for working professionals because –
Flexibility – Online or distance learning courses impart relevant skills and add value to the resume. They provide the flexibility of studying while working. They do not require the candidate to attend classes on a physical campus and spend the whole day and eventually 2-4 years.
Focused learning – The courses are designed in a way that they focus on the skills necessary for the domain, are applicable, and are updated.
Soft skills – These courses also focus on soft skills such as communication, corporate ethics, and social responsibility. Soft skills are the most sought-after skills by employers. This is the reason employers are insistent on degree requirements, which is a proxy for soft skills.
Age-limit – These courses do not have any age criteria and hence can be pursued by anyone looking to gain knowledge at any age.
No eligibility criteria – Many people are often deprived of higher education or college degrees as they do not fit the eligibility criteria. This eventually closes the doors to many opportunities despite possessing relevant skills. Distance education courses generally do not have any such criteria, thus making them easily accessible.
Acceptability – Courses & certifications from reputed and Government recognized institutes have acceptability worldwide.
Technology – With evolving technology, the teaching-learning process has evolved. Latest Learning Management Systems like Canvas is making the learning experience hassle-free and easy for students. Thus, enhancing the learning environment compared to any traditional classroom.
Affordability – The online courses have a price range of Rs. 500 – Rs. 2,00,000 or more, thus making education open for people of any financial strata.
ROI – Since these courses are customized to be domain-specific and impart the latest knowledge, the candidate can be easily absorbed in the industry. Thus, yielding a high return on investment.
Affiliation – If the course is provided by any University or a recognized and reputed institute like IIMs, Welingkar, Narsee Monjee Institute of Management or MIT School of Distance Education, etc. the candidate upon completion of the course may get an alumni status of that institute.
Certification – Upon completion of the course, the candidate is awarded a degree or diploma, or certificate of completion which is a valuable addition to the resume.
Access to distance learning has proved to be a boon for those looking to upskill without having to give up their job or wish to make a switch in their career path. It has also proved beneficial for mothers who have taken a break from their career and wish to resume it by updating their knowledge and skills or veterans who are aiming for a second innings in their long careers.
MIT School of Distance Education (MITSDE) is one such institute that is recognized by AICTE, Govt. of India. It offers skill-based courses for working professionals looking to upgrade their careers and reduce their skills gap. It is built on a culture of collaboration, ambition, innovative thinking & the desire to create change in higher education.
MIT School of Distance Education (MITSDE) offers Post Graduate Diploma courses with specializations in Marketing Management, Finance, HR, Operations, Information Technology, Logistics & Supply Chain Management, Digital Marketing, Business Analytics, and Construction & Project Management.
Pursuing a PG Diploma in Management or other certification courses from such reputed institutes gives the candidate an extra edge over the competition.