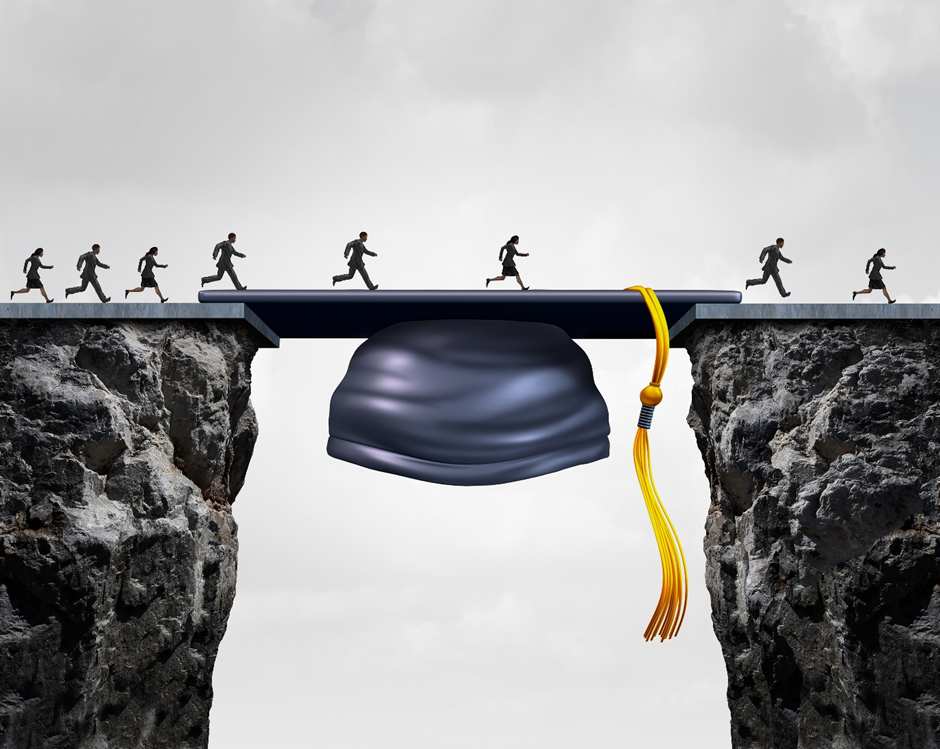 A Gartner study reveals that 51% out of the Gen Z employees interviewed, say that their education has not prepared them to enter the workforce.
They lack the industry-preparedness and this negatively affects the organization.
Lacking the necessary skills often causes burnout, exhaustion, or high employee turnover in today's highly competitive market.
To build a resilient, adaptable and agile workforce upskilling is crucial. The company must create a learning environment and provide development opportunities to upskill its employees.
Working professionals greatly benefit from online learning or distance learning. Online learning allows them the flexibility to pursue education while employed.
Today, many A-list and Ivy League colleges and institutions are offering distance learning programs. These online courses are widely accepted and the degree is considered a valid proof of qualification.
Another survey talks about how job skill sets have changed over time. By 2027, 50% of jobs will have revised skill requirements. Hence learning new skills and a continuous learning approach will help employees remain competitive.
Hence, many organisations globally support and encourage upskilling and learning & development. There are a variety of paid or free online courses for upskilling and reskilling.
Here are a few benefits of upskilling or reskilling through online learning courses – 
Flexibility – Online learning programs are to the point and add value to your resume. The distance learning model does not require students to attend offline classes. The online courses are mainly based on a self-paced learning model. Hence it offers complete flexibility.
Focused learning – The courses are designed to focus on necessary, applicable and updated skills. They also provide knowledge on legal compliances important for setting up and running any company.
Soft skills – These courses also focus on soft skills such as communication, corporate ethics and social responsibility. Soft skills are the most sought-after skills by employers.
Age-limit – These courses do not have any age criteria and can be pursued at any age.
No eligibility criteria – Distance education institutes generally do not have any prerequisite for admission, thus making higher education easily accessible.
Credibility & recognition– Courses & certifications from reputed Government recognized institutes have worldwide acceptance.
Technology – High-end Learning Management Systems, virtual classrooms, and online assessments make the learning experience hassle-free and easy for students. 
Cost-effective– The online course fees are between Rs. 500 – Rs. 2,00,000 +. This makes online education open for people of any financial strata.
ROI – Since these courses are customised as per the advancements in each sector, they impart updated and relevant knowledge. Thus yielding a high return on investment.
Alumni status– The candidate gets an alumni status of the distance learning institute or University.
Certification – Upon completion of the course, the candidate is awarded a degree or diploma or certificate of completion. This is a valuable addition to the resume.
MIT School of Distance Education is an AICTE-approved distance learning institute. It understands the current skills gap in the market and strives hard to reduce it. For this purpose, MITSDE brings to you distance PGDM courses. 
MITSDE offers a wide array of courses to choose from such as –
Project Management
Marketing Management
Finance Management
Operations Management
Supply chain & Logistics Management
Banking & Financial Services
IT Management
Construction Management
Digital Marketing
Business Analytics
MITSDE also offers a dedicated team of student success managers that assist in learners' academic journey.
The placement cell offers services like resume-building and career-building sessions to help one secure a rewarding career.
Lastly, initiatives like MITSDE Labs and Harbour offer a perfect blend of practical hands-on training and psychological counselling.
Thus, MITSDE offers a 360-degree learning approach that guarantees a rewarding career.