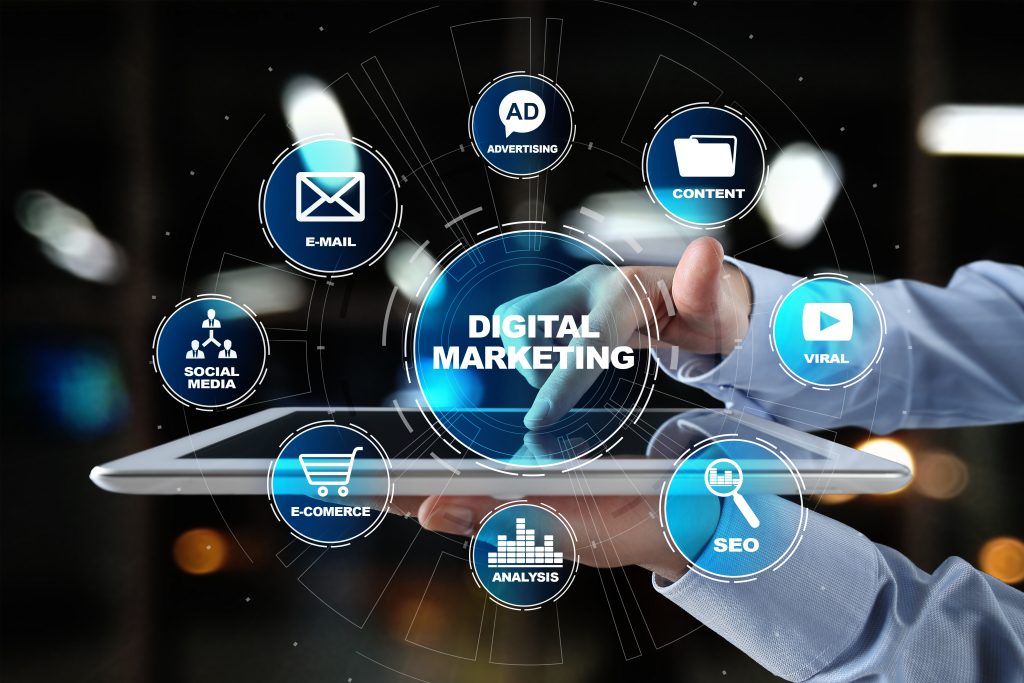 Digital marketing is the term given to the act of buying and selling products online through digital mediums like websites, social media, email, search engine ads, mobile marketing, and even in-app marketing.
Since India opened its doors to the outside world, the Indian economy has seen a boost. Similarly, with the advent of digital marketing, geographical boundaries have faded. Worldwide internet connectivity and digital platforms (mobiles, laptops, desktops, tablets, etc.) have flooded the markets with offerings and information from across the globe. 
A global marketplace where buyers and sellers all over the world operate on a digital platform sums up the idea of a digital market. Digital Marketing is communicating to the potential audience about what the seller has to offer. 
A report suggests that India's advertising revenue growth is expected to grow to 16.8% in 2023. Out of which 48.8% share is pure-play digital advertising. 
There are 5-key focus areas covered under Digital Marketing: 
Search Engine Optimization (SEO) 
Video Marketing
Social Media Marketing (SMM)
Pay Per Click (SEM)
Content Marketing
Let's take a look at each one of the components individually – 
SEO – SEO is divided into two parts:
On-page SEO includes
Optimizing Meta Title, Meta Description, Keywords, Alt tag, Canonical tag, H1 Tag, sitemap, robot.txt
Integrating relevant keywords into your pages
Creating user-friendly content
Off-page SEO includes
Social Bookmarking, Directory Submission, Blog commenting, Q/A, PPT Submission, PDF Submission, Image Submission, Classifieds, Social Media Creative (Facebook, Twitter, LinkedIn, Instagram), Infographic Submission, YouTube SEO, and Video submissions.
Another important aspect of SEO audit is website load speed & page load time
Video Marketing
Video marketing consists of creating video content such as YouTube videos, Instagram reels, TikTok videos, etc. It has been observed that currently, video content has a better reach and traction. This is why companies are more focused on creating content that has the potential to attract a larger audience.
Social Media Marketing
Social media such as Facebook, Instagram, Twitter, LinkedIn and such, provide targeted and focused efforts to reach the target audience.
Pay-Per-Click (PPC)
This is a paid effort to bring traffic to your website, generate leads or for branding. This includes activities like: Monitoring the digital campaigns based on – 
Spends
Quality score
Keyword performance
Ad strength
Click-through-rate (CTR)
Cost-per-click (CPC)
Negative keywords
Content Marketing
Generating content for websites and other digital assets and developing marketing collateral is included under Content Marketing.
All these paid and organic digital marketing strategies are to generate traffic, and leads, reduce bounce rate, and most importantly connect with the audience. Communicating effectively with the group of potential customers is the core objective of all digital marketing efforts.
The benefits of digital marketing are – 
Measurability – Unlike traditional marketing, there is more accuracy in measuring the results of marketing activities. The audience persona can be better built with the aid of all the details collected. The results are quick and hassle-free to obtain and measure. Thus monitoring becomes easy, efficient and effective.

Reach – Specific targeting, customized messaging and wider reach as the advantages of digital marketing. There is no geographical barrier and the companies can leverage the data to reach their desired audience.

Costs– The companies are in charge of deciding the budget and the costs to be incurred for any marketing campaign. There is no minimum cost and the spending can be directly mapped to the returns.

Customization & localization – It is possible to customize the messaging strategy to suit each target group. Similarly, localization helps in appealing to the target audience productively. 

Analytics – Due to digital mediums measuring and monitoring become easy. The data generated can be analyzed to optimize the existing activities, predict future trends, map the spending, carefully plan budgets, understand the correct mix of mediums for its audience, and take corrective actions.

Evolution – Since the digital world is constantly evolving, marketing strategies also need to evolve with it. This helps the company, develop multiple strategies and continually update itself to stay relevant. The constantly changing environment curbs the ill effects of monopoly, market aggressors, and unfair practices.

Digital marketing is an effective way for businesses to expand beyond geographical boundaries without having to spend much. The expected market size of the digital advertising industry in India is Rs. 359 billion. Owing to the digital marketing growth and market size, careers and salary in the digital marketing industry are also lucrative.
The digital marketer's salary in India is in the range of Rs. 3.5 LPA to Rs. 10 LPA, with an average of Rs. 4.5 LPA.
Careers in the Digital Marketing industry are –
Digital marketing executive
Digital marketing manager
Content writing executive
Content manager
SEO manager
Social Media manager
Digital marketing specialist
Acquisition manager
Why MITSDE?
MIT School of Distance Education (MITSDE) AITCE-approved distance learning institute. MITSDE brings to you PG Certification in Digital Marketing (PGCM Digital Marketing), a course that covers the latest concepts in digital marketing. It gives hands-on training on the latest tools. The course teaches you to create a virtual brand, analyse market trends, and design campaigns.