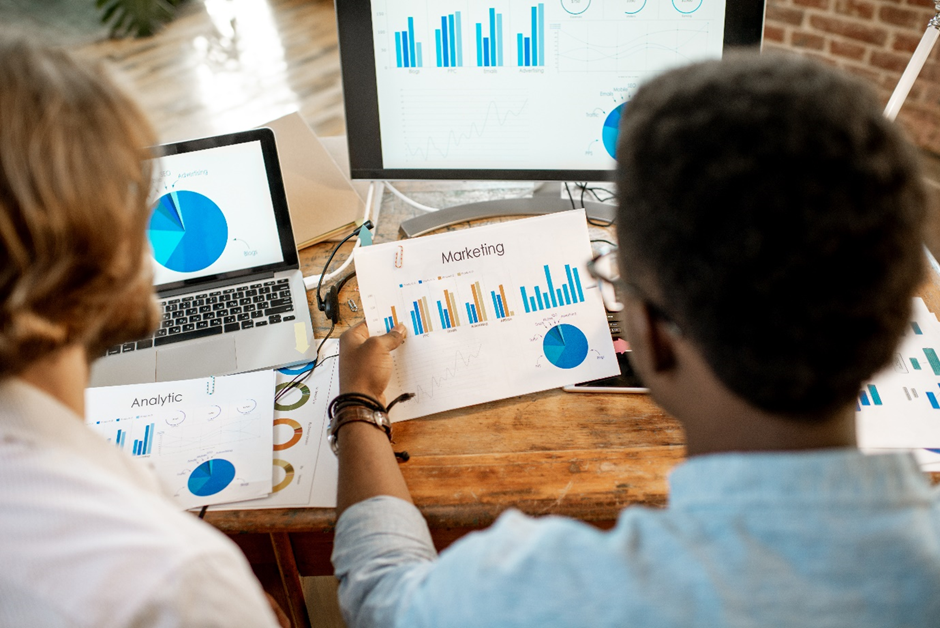 The answer is a resounding yes. A commerce degree imparts essential concepts like – Accounting, costing, financial statements, financial markets, and investment markets. A commerce bachelor's degree imparts essential knowledge that helps pursue a career in Business Analytics.
Business and data analytics is a rapidly growing field. Businesses demand it to improve their efficiency, profit-making, and customer satisfaction.
Many companies suggest that the demand for market research analysts and marketing specialists will grow by 18 per cent by 2030. According to the Bureau of Labour Statistics, the demand for data scientists will increase by 22 per cent by 2030.
What is Business Analytics and its types?
It is the process of collecting, analysing and interpreting data. It involves identifying trends, patterns, and insights to help businesses improve their performance.
A Business analyst builds analysis models and simulations to recreate real-life situations. The analyst can understand the scenario and predict future trends. Business analytics includes data mining, predictive analytics, applied analytics, and statistics.
Types of analytics-
Descriptive analytics involves decoding past data to identify trends or patterns.
Predictive analytics uses data to predict future outcomes and market trends.
Diagnostic analytics includes analysing the data to understand the pain areas.
Prescriptive analytics applies tools and techniques to derive potential scenarios in different situations.
We use different methods to gather information and accomplish various business goals.
The skills required to be a successful business analyst are –
Problem-solving skills
Soft skills
Business intelligence and statistical tools
Understanding of databases and networks
Stakeholder analysis
Predictive analytics
Cost-benefit analysis
Data visualisation techniques
Basics of programming languages
Understanding of business functions & processes
Career Opportunities in Business Analytics
Some of the most common jobs include –
Data analysts collect, categorise, and analyse data to identify trends and patterns.
Business analyst – Business analysts help businesses understand and use the data to improve performance. They work with stakeholders to identify business problems, gather data, and develop solutions.
Financial analyst – Financial analysts use data to analyse the financial performance of businesses. They guide businesses with investment decisions, risk management, and regulation compliance.
Data architect – It is a highly technical role. The data architect ensures that the data is relevant, accurate and easily accessible.
Marketing analyst – Analysts use data to understand customer behaviour and improve marketing campaigns. They help businesses develop and execute marketing strategies that reach their target audience.
Data scientist – A data scientist collects, analyses and interprets the data using statistical methods. This helps the stakeholders derive meaningful and valuable insights and plan their strategy.
Operations research analyst – Analysts use data to solve complex business problems. They use mathematical models and statistical analysis to improve efficiency, optimise processes, and make better decisions.
How to Become a Business Analyst & What are the skills required?
Business analytics is a rapidly growing field with endless possibilities. With the right skills and experience, you can have a very successful career in this sector.
There are a few different ways to become a business analyst. You can get a degree in business analytics, a related field, or a general business degree.
This is where the MIT School of Distance Education will help you. MITSDE is an AICTE-approved distance learning institute. It offers upskilling courses in various disciplines.
MITSDE offers a 12-month Post Graduate Certificate in Business Analytics (BA). The online Business Analytics course trains you to become a top Business Analyst. The experts at MITSDE impart relevant industry knowledge through many exciting case studies and their experience and expertise. It ensures that you are market ready.
The course imparts essential skills like –
Core concepts of data analytics
Techniques to identify trends and patterns
Measuring business values using statistical tools & techniques
Data mining, data analysis, statistical modelling, and data visualisation techniques
Understanding of predictive analytics & predictive modelling techniques
Application of analytics in various domains in real-time
Harvard Business Review named Business Analytics an attractive job field of the 21st century. The average salary for a business analyst ranges between Rs. 4 LPA to Rs. 15 LPA.
This makes it a lucrative career to pursue. Thus, if you wish to become a business analytics professional after your bachelor's degree, MITSDE provides the perfect entry-level business analyst opportunities.