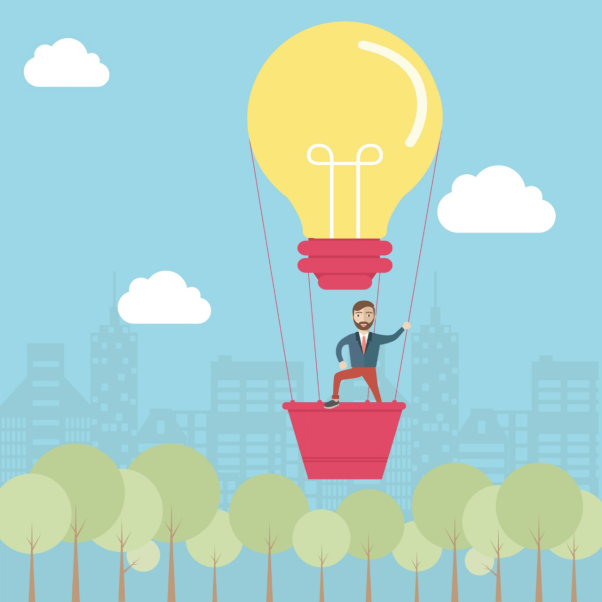 Blue sky thinking means out-of-the-box thinking or creative brainstorming. It refers to finding completely new ideas or solutions to a problem.
For example, a few years ago, sending someone to the moon was unimaginable, but with visionary scientists and engineers, it became a reality in 1969.
The blue sky thinking strategies have brought about incredible changes and advancements in the business world. The businesses have evolved from hand-crafted products to Automated and unmanned production assembly lines. The progress was possible due to the out-of-the-box thinking of the then-visionaries.
In the business world, blue-sky thinking is often regarded as innovative ideas. It is free from limitations or feasibility constraints. It is a brainstorming technique that allows employees to make assumptions without any restrictions. The highlight of the blue sky thinking sessions is that there are no bad ideas.
However, like every business model, here's a list of the pros and cons of the Blue Sky Thinking strategy.
Here's why it is advantageous to the companies –
Free from restrictions – You can brainstorm on the problem or issue without considering limits. It allows them to think freely without evaluating the costs or feasibility.
A different perspective allows you to look at the problem as an opportunity to grow. It will enable you to implement new methods and processes to overcome difficulties.
Promotes innovation – It allows you to change the goals, methods, or processes. It gives you the freedom to start afresh.
Growth – Blue Sky Thinking and brainstorming sessions foster a growth mindset. It creates a free-thinking environment and encourages the employees to be innovators. This contributes to the organisational transformation.
Blue Sky Thinking also has a downside that companies must consider.
Hypothetical solutions – Since they are free from any restrictions, they may not be practical. The solutions are hypothetical and cannot be implemented without modifications. Since the solutions do not consider business and economic conditions, they may not always suit current situations.
Difficult to implement solutions – It could be challenging to put the solution into practice, particularly if it doesn't have a clear structure. The manager must highlight each activity or task, the critical performance parameters and the resources required.
Risk – The speculative solutions might fail to recognise or consider the potential risks or threats. It might distort your thinking.
Blue Sky Thinking is like a passport to endless possibilities. With an innovative and curious mindset, you can explore countless opportunities.
How is MIT SDE also a growth enhancer for your career?
MIT School of Distance Education is an AICTE-approved distance learning institute. It caters to working professionals looking for career development. It offers PG Diploma in Management courses for the holistic development of professionals.
MITSDE offers a wide array of disciplines to choose from, such as –
Project Management
Marketing Management
Finance Management
Operations Management
Supply chain & Logistics Management
Banking & Financial Services
IT Management
Construction & Project Management
MITSDE has a dedicated team of student success managers for each learner. Student success managers assist learners in their academic journey.
It also has a placement cell that guarantees 100% placement assistance. The placement cell also offers resume-building and career-building sessions to help secure a rewarding career.
Lastly, initiatives like MITSDE Labs and Harbour offer a perfect blend of practical hands-on training and psychological counselling.
Thus, MITSDE offers a 360-degree learning approach that guarantees a rewarding career.